San Francisco celebrates grand opening of TL Residences,
a 240-unit studio apartment community in the Tenderloin
Innovative partnership of Forge Development Partners and Bridge Investment Group
is creating a model for future workforce housing and sustainable development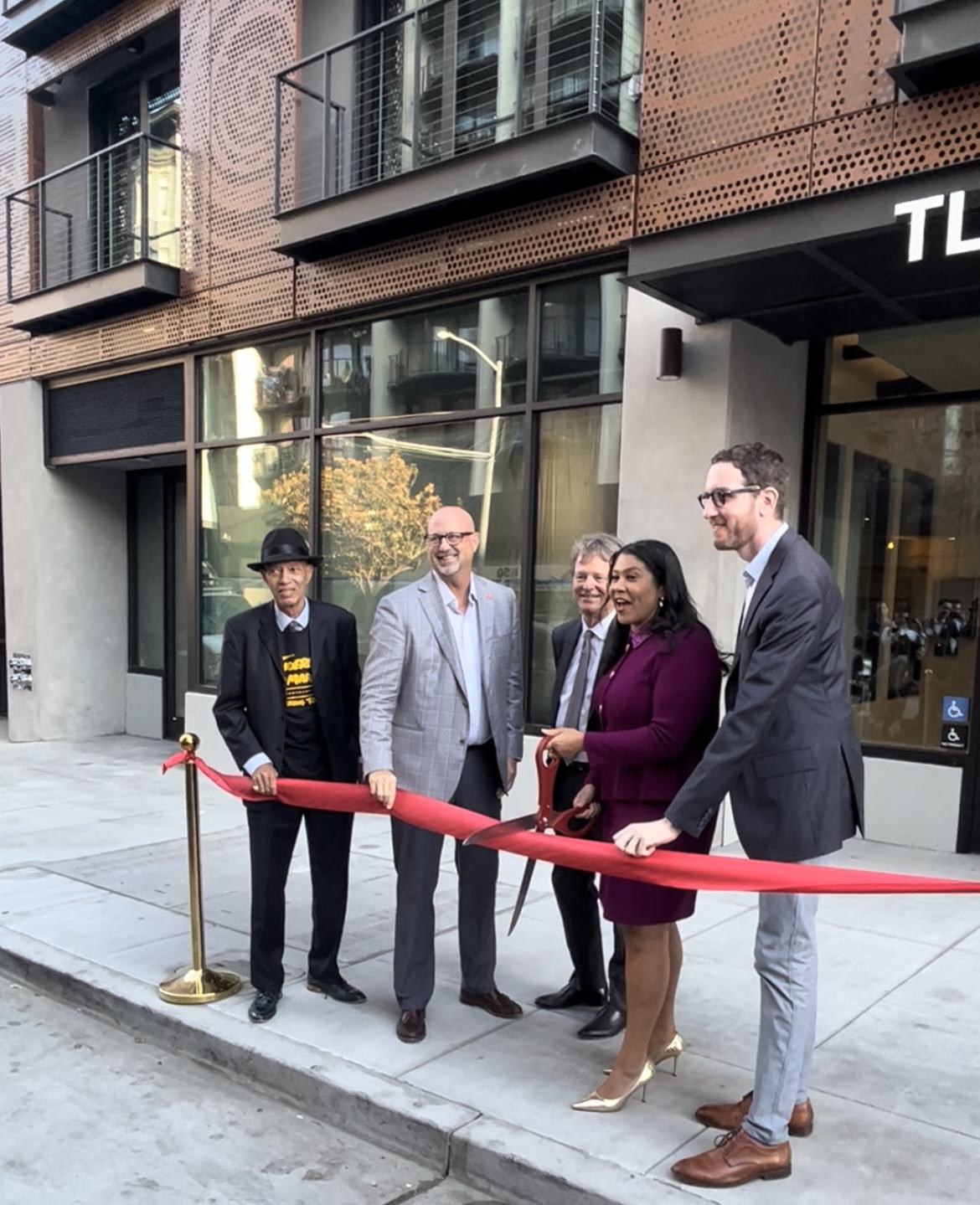 SAN FRANCISCO (Oct. 20, 2022) – Designed to address the critical workforce housing gap in San Francisco, TL Residences, a pioneering studio apartment community in the city's vibrant Tenderloin neighborhood, made its official debut and will welcome residents in November.
Created by Forge Development Partners, the new mid-rise development offers the most technically advanced and sustainable market-rate housing for the "missing middle," the essential workers who form the city's backbone but are often priced out of housing near their workplaces.
"TL Residences is a visionary model for integrating pioneering sustainability principles, pioneering technology, and high-quality living environments to create an eco-friendly lifestyle for the middle market," said Robert Hannum, founder, and CEO of Forge Development Partners (Forge), a San Francisco-based development company focused on providing urban solutions for the nationally underserved area of essential housing. "We believe the ultimate success of this innovative partnership and scaled-unit community will inspire other cities to build similar workforce housing."
Dozens of community leaders, including San Francisco Mayor London Breed and California State Senator Scott Weiner, project development team members, and neighbors attended a ribbon-cutting ceremony and open house on Oct. 20, 2022, celebrating the completion of TL Residences, a two-building luxury studio apartment community at 361 Turk St, and 145 Leavenworth St., featuring 240 scaled units in a group occupancy environment, as well as more than 3,000 square feet of street-level commercial space. World-renowned San Francisco-based architecture firm Gensler is the architect of record for the development.
A unique partnership between Forge and Bridge Investment Group (Bridge), a real estate investment manager, brought the pioneering project to life. Bridge's structured financing, coupled with Forge's innovative construction and environmental practices, has established San Francisco's first privately owned and financed buildings that offer means-tested rent controls for workforce housing.
Thirty-one units will be available at below-market rate to renters with qualifying annual incomes of $32,000, as mandated by the City of San Francisco's Office of Housing and Inclusionary Housing Ordinance.

An additional 94 units will be made available to renters with voluntarily imposed qualifying annual incomes ranging from $75,000 to $80,000.

The remaining units are affordable by design, allowing Forge and Bridge to rent those units at a market rate of $2,467 to $3,791 per month.
"TL Residences marks another milestone on Bridge's journey to provide communities with access to quality workforce housing," said Rachel Diller, Co-CIO, Bridge Housing Investments. "The income restriction Bridge and Forge elected to place on this housing is especially significant, as it will help ensure these units are kept affordable for working San Franciscans for decades to come."
Inspired by the global trend of scaled, affordable-by-design residences, Forge created scaled units ranging from 230-280 square feet, rich with contemporary features offering multiple uses, such as moveable multi-purpose furniture and walls that allow the same space to transition from living room to bedroom to maximize space. TL Residences boast life-enriching amenities, including a rooftop lounge, community kitchen, yoga studio, and pet zone — all serving as an extension of residents' living space, merging community with comfort in a lively atmosphere.
In addition to being affordable by design, TL Residences is driven by cleantech, or technology that is working to reduce negative environmental impacts, making it one of the most technologically advanced and environmentally sustainable buildings in San Francisco, with systems that allow for remote control of energy use, waste-water recycling for reduced consumption, and other environmentally sound practices.
Both buildings include solar thermal water heating systems that reduce overall water boiler gas usage by 30% when compared with traditional systems. Moreover, the buildings incorporate a state-of-the-art HVAC system that provides the highest level of air quality available in multifamily units. The HVAC system uses the most efficient MERV 13 antimicrobial filters on the market to create a pressurized hypoallergenic air supply for each building, filtering out wildfire smoke and industrial pollutants, which is becoming more important due to climate change, as well as viruses including COVID-19. Forge's commitment to develop these units as cleantech drives its commitment to sustainability and climate responsibility.
"Our goal was to build the housing that San Francisco's middle-income families need, while incorporating Forge's foundational principles of sustainability, innovation, and luxury," added Hannum, "We also wanted to create a rich urban lifestyle within a strong and vibrant community."
It was crucial to Forge and Bridge that TL Residences create a platform that would help the community become healthier, more educated, and more financially stable. To that end, Forge partnered with Project Access Resource Center to offer free, on-site health, financial and educational programs, such as afterschool childcare, fitness classes, financial literacy workshops, and more.
The public art adorning the development's building façades also speaks to the development team's commitment to community investment. In Jan. 2022, Forge and the Architectural Foundation of San Francisco (AFSF) announced 10th grader Eva Nusbaum-Faust and 11th grader Sofia Regenbogen from the Ruth Asawa San Francisco School of the Arts as the winners of a community-based design competition for the permanent installation of the perforated, metal panel facades on both TL 361 and TL 143. The students worked with Gensler, the development's design architect, to transform the winning concepts into permanent facades for each new building. Nusbaum-Faust's design was inspired by nature and the rich community of the Tenderloin she experienced when visiting the development site, designed to "show the threads of the community as hands and ribbons connected together."
"TL Residences illustrates our commitment to cutting-edge research in sustainability and the value and impact of smart environmental practices," added Hunnam. "The ultimate success of this development demonstrates what can be achieved when innovations in sustainability, technology, and design come together for the public good."
Future community residents can visit www.livetlresidences.com to learn more about the TL Residences and apply for units.
About TL Residences
TL Residences is a two-building, 240-unit luxury studio apartment community located in the heart of San Francisco in the vibrant Tenderloin neighborhood at 361 Turk St. and 145 Leavenworth St. Envisioned by Forge Development Partners and Bridge Investment Group to address the workforce housing gap, TL Residences provide a group occupancy environment for people earning less than $80K/year with no government assistance. Affordable housing reaching 40% of the area median income, is also available. Designed by world-renowned San Francisco-based architectural firm Gensler, TL Residences is one of the most technologically advanced developments in San Francisco, placing sustainability and environmental innovation at the forefront of design, with systems that allow for remote control of energy use, waste-water recycling for reduced consumption, and more. The community represents an exceptional opportunity to live in a convenient area with proximity to blue-chip employers in the Civic Center, Financial District, and South of Market District; accessible to transit via BART, MUNI, and rideshares; and walkable to the city's best, shopping, dining, entertainment, and cultural destinations. For more information about TL Residences, professionally managed by Bridge Property Management, visit the rental office located at 361 Turk St., San Francisco, CA 94102; call (415) 853-2516, or visit online at www.livetlresidences.com.
About Forge Development Partners, LLC
Based in San Francisco, Forge Development Partners (Forge) is a preeminent development company focused on providing urban solutions for the nationally underserved area of essential housing. Forge's holistic approach encompasses building design and construction, the use of technology, and concierge residential management to improve the resident experience and benefit the surrounding community. Using innovative design and construction techniques, Forge's projects are scalable, sustainable, and environmentally beneficial. Instead of relying on government subsidies, the company's overall approach attracts Impact Investors while providing a rental price point that offers maximum residential value at a reasonable cost. Forge's latest project is TL Residences, a 240-unit co-living studio apartment community in San Francisco's vibrant Tenderloin neighborhood. For more information, visit: www.forgedevelopmentpartners.com.
About Bridge Investment Group
Bridge is a leading, vertically integrated real estate investment manager, diversified across specialized asset classes, with approximately $42 billion of assets under management as of June 30, 2022. Bridge combines its nationwide operating platform with dedicated teams of investment professionals focused on select U.S. real estate verticals: residential rental, office, development, logistics properties, net lease, and real estate-backed credit.
Media and Investor Relations Contact:
Charlotte Morse
Bridge Investment Group Holdings Inc
(877) 866-4540