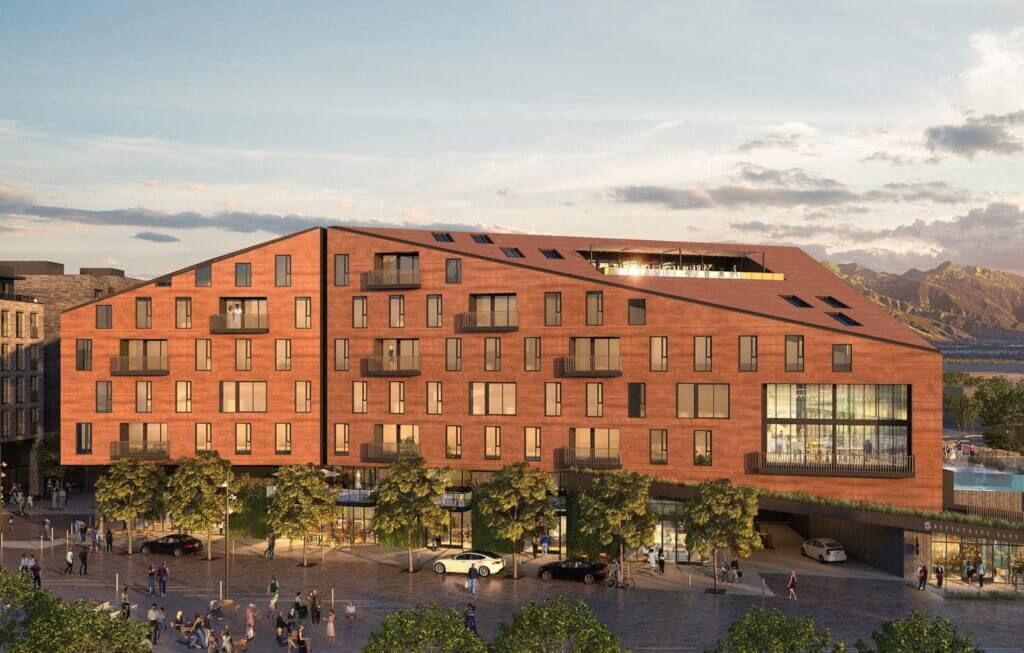 Salt Lake City, Utah — Post District Residences, a new apartment community in Salt Lake City, officially opens its doors to residents seeking a modern, upscale living experience. Featuring 580 spacious units, state-of-the-art amenities, and a prime location, Post District Residences is the premier destination for those looking to live, work, and play in the heart of Salt Lake City.
"We are thrilled to welcome residents to Post District Residences and provide a broad range of housing options along the income spectrum with rents ranging from $1200-$4000 while allowing everyone access to our amazing amenities," said Nick Gonzalves, Director – Head of Western U.S., Acquisitions & Development, Bridge Investment Group. "Post District Residences is designed with our residents' needs in mind, and we are confident they will love calling Post District Residences their home. Post District Residences is a prime example of what the Opportunity Zone Program was designed to do – bring capital to areas that needed some love, create housing, jobs, and sustainable communities. In conjunction with the 580 new multifamily units, we re-purposed existing industrial buildings for retail/office uses to preserve the City's character and add a certain flavor to the project. A fusion of the old and the new. Post District Residences is a true and full live/work/play neighborhood that will have something for everyone in Salt Lake to enjoy."
Post District Residences offers a variety of floor plans, including studio, one-, two-, and three-bedroom options, each boasting upscale finishes such as stainless-steel appliances, refrigerators with water and ice makers, and in-unit washer and dryer. Additionally, each residence showcases open-concept living spaces and large windows bringing in natural light ensuring residents enjoy a comfortable and stylish living environment.
Designed by architecture firm MVE + Partners, Post District Residences' plans recently received an award of merit and is nominated for a PCBC Gold Nugget Grand Award in the category of Best On-the-Boards Multi-Family Community. "As MVE and Partners approaches its 50th anniversary, we are so appreciative of our partnerships with Bridge Investment Group, Lowe Property Group, BCG Holding and Q Factor and the trust they place in us to create innovative architectural design," said Pieter Berger, principal at MVE + Partners.
Residents of Post District Residences have access to a wide array of amenities designed to enhance their lifestyle. Post District Residents will have access to resort-style features and inspiring spaces, like a 7,000+ square foot fitness center with cutting edge equipment, indoor/outdoor pools, rooftop decks with sweeping views, golf simulator, and a creative space for artists and content creators. For added convenience, Post District Residences also offers plenty of on-site parking, pedestrian friendly streets, and easy freeway access. BCG Holdings, Principal – Brandon Blaser added "The amenities at Post District Residences create a community within the development. Aside from housing, this project is creating proximity to retailers and restaurants, entertainment, and walkability, all of which contribute towards a successful neighborhood."
Located at 575 South 300 West,Post District blends what is loved about Salt Lake City into one vibrant neighborhood. Ben Lowe, co-owner of Lowe Property Group says "Post District is reshaping a broad area located right off the primary entrance and exit to Salt Lake City. It's the first thing you see as you come into the city and the last thing you see as you leave the city." This is where the city's creativity, history, and industry meet to form a community full of incredible restaurants, business space and retail. Post District will be welcoming some of Salt Lake City's best new restaurants and retail including Urban Hill, Sunday's Best, Level Crossing Brewing Company, MENSHO and Traeger Grill's worldwide headquarters.
Post District Residences is currently leasing and invites prospective residents to schedule a tour to experience the premier living experience firsthand. For more information or to schedule a tour, please visit www.liveatpost.com or call 385-350-4187.
About Bridge Investment Group
Bridge is a leading, vertically integrated real estate investment manager, diversified across specialized asset classes, with approximately $48.8 billion of assets under management as of March 31, 2023. Bridge combines its nationwide operating platform with dedicated teams of investment professionals focused on select U.S. verticals across real estate, credit, renewable energy and secondaries strategies.
About BCG Holdings
BCG Holdings is a Salt Lake City-based real estate developer and investor predicated on impact, sustainability, and placemaking. BCG has sourced and capitalized ~200M of adaptive re-use, development, and acquisition investments in Salt Lake City since its founding in 2018. The BCG team has a depth of real estate development and investment experience in numerous markets across the country.
About Lowe Property Group
Lowe Property Group (LPG) is a family real estate development and investment firm located in Salt Lake City, Utah. During its 35-year history, LPG has developed 2,000+ residential units and currently manages a real estate portfolio of more than $1BN in existing properties and pipeline developments.
About MVE + Partners
Celebrating almost 50 years in the industry,MVE + Partners provides architecture, planning, and interiors from its multiple studios across the United States to its clients across the globe. MVE + Partners' mission is to design with passion, collaborate successfully, and sustainably enrich the communities it influences to continually deliver buildings that are exceptional by design.
Investor Relations Contact:
Charlotte Morse
Bridge Investment Group Holdings Inc.
[email protected]
Media:
Charlotte Morse
Bridge Investment Group Holdings Inc.
(877) 866-4540