Lincoln Landing Announces Leasing for Largest Multi-Family Community in Downtown Hayward
The mixed-use community features 474 residences and over 82,000 square feet of retail space leading the charge of revitalizing Downtown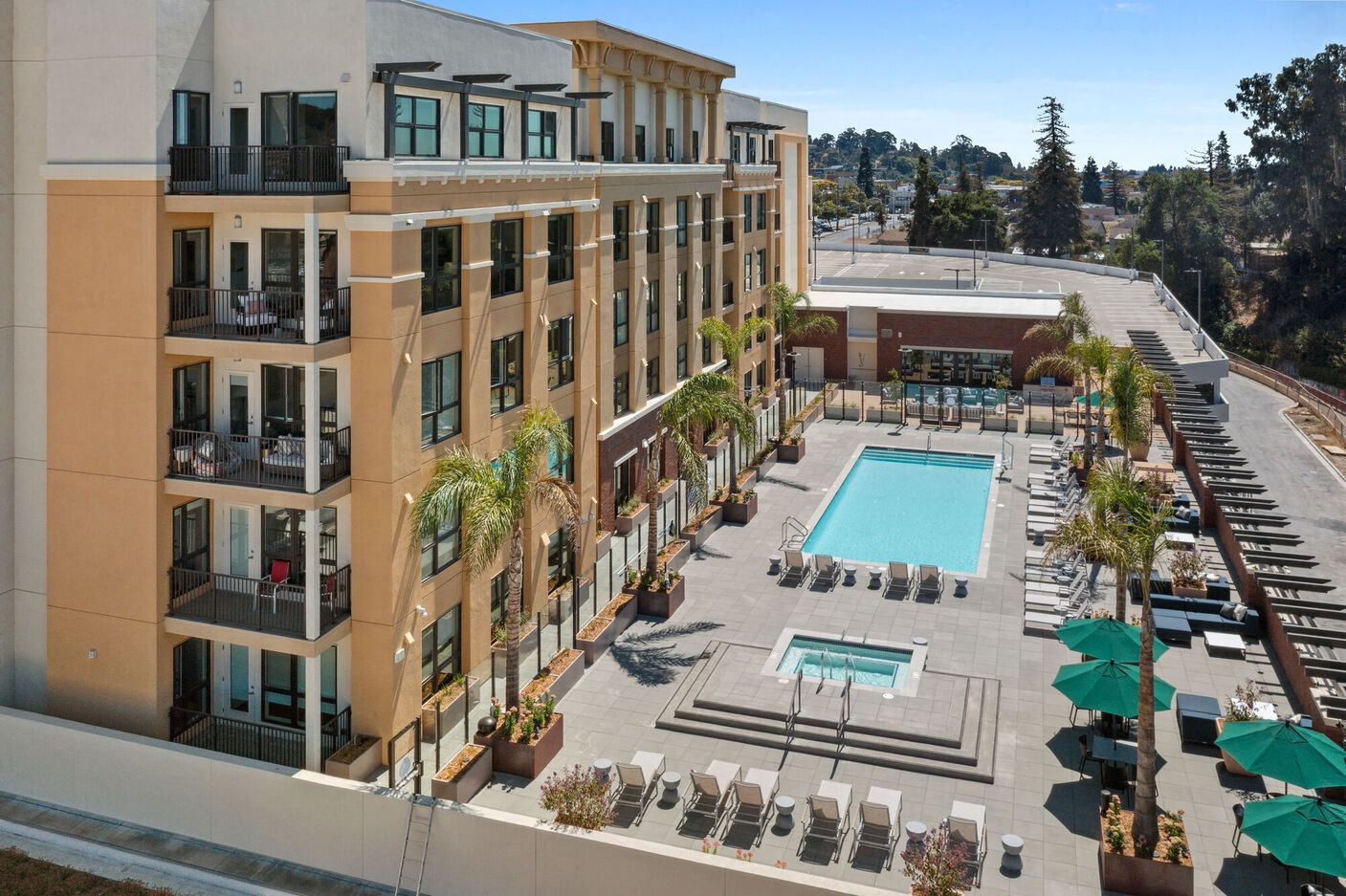 HAYWARD (August 30, 2022) – Lincoln Landing, Downtown Hayward's largest and newest development, announces leasing has begun for Phase One of the project including 474 multifamily residences. Located on an 11.5-acre site at 22301 Foothill Blvd, Lincoln Landing first broken ground in 2019 by Dollinger Properties in a partnership with Bridge Investment Group ("Bridge") and is the first major project in one of Downtown Hayward's five Opportunity Zones. Lincoln Landing also features over 82,000 square feet of retail space that will be anchored by City Sport.
"Lincoln Landing will play a key role in the revitalization of Downtown Hayward," said Dominic Li Mandri, District Manager for the Downtown Hayward Improvement Association. "This is the sixth residential or mixed-use residential development to break ground on Foothill and Mission boulevards in the last two years. This project will have a significant economic impact on Downtown, bringing in much-needed foot traffic to the community that will support the many local businesses that are still in recovery."
Dollinger Properties and Bridge Investment Group contributed nearly $1.7 million to the city's trust fund for the creation and preservation of income-restricted housing affordable to moderate and low-income households.
Centrally located Downtown, residents are minutes away from the best restaurants and shopping along with the Hayward BART Station, and outdoor spaces including the Japanese Friendship Gardens and Lake Chabot Regional Park. Lincoln Landing features an assortment of studio, one-bedroom, two-bedroom, and three-bedroom apartments. Interiors are uniquely vintage with a modern flair with designer finishes such as vinyl hardwood finished flooring, porcelain tile bathrooms, high ceilings, and quartz countertops. The community spaces were designed with comfort in mind and include a state-of-the-art fitness center, a resort-style pool and spa, a dedicated pet spa and grooming area, co-working spaces and conference rooms, a social lounge and clubroom with a game area, and a variety of on-site retail spaces soon to come.
David Coelho, Chief Investment Officer for Bridge's Opportunity Zone Fund strategy, added: "Lincoln Landing fits well within Bridge's mandate to provide much needed, high-quality housing to address the area's housing shortage as well as establish a vibrant live/work/play community. The property's location next to I-880 and I-580, access to 82,000 square feet of retail on the ground floor and walkability to Downtown Hayward, and quality on-site amenities help create an exciting project."
Phase One of Lincoln Landing is now open, with the completion of Phase Two anticipated for fall 2022. Bridge Property Management will manage the multifamily and Dollinger Properties the retail. To schedule a visit, learn more and stay up-to-date with the latest news, visit www.lincolnlandingapartments.com and follow them on Instagram @LincolnLandingApts.
About Dollinger Properties
Dollinger Properties is a multi-generational family-owned real estate development firm focused on the long term ownership of commercial property. Based in Redwood City, Ca., Dollinger Properties owns and manages over 80 premier properties in California representing more than 7 million square feet of space.
Bridge Investment Group:
Bridge is a leading, vertically integrated real estate investment manager, diversified across specialized asset classes, with approximately $42 billion of assets under management as of June 30, 2022. Bridge combines its nationwide operating platform with dedicated teams of investment professionals focused on select U.S. real estate verticals: residential rental, office, development, logistics properties, net lease and real estate-backed credit.
About the Downtown Hayward Improvement Association (DHIA)
The Downtown Hayward Improvement Association (DHIA) was established in 2018 to manage the funds secured by the Downtown Hayward Benefit District and enhance the community of Downtown Hayward by administering the enhanced services. The DHIA advocates on behalf of its members' best interest in area of public safety, beautification, promotion, and economic development. All services administered by the DHIA are intended to directly benefit the property, business owners and residents withing this area to help support increased commerce, business attraction and retention, retain and increase commercial property rentals, enhanced safety and cleanliness within the district boundary, improved district identity, and eventually fund specialized beautification projects. The DHIA is run by a Board of Directors consisting of 11 individuals representing various businesses and property owners. For more information, please visit www.visithaywardca.com